Why drivers should take a break this winter
Date posted: December 3, 2012
Long journeys in the car can be very tiring, especially when you've had a long day at work and all you want to do is get home. It's no secret that the winter weather can put extra demands on our eyes and concentration levels whilst driving, which is why it's vital that you take breaks when you feel tired.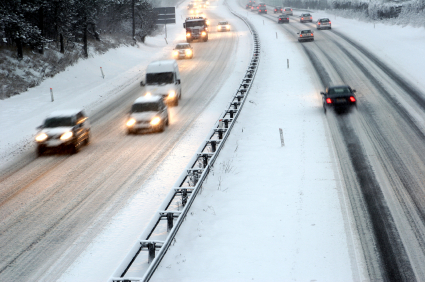 Thanks to the reduced road visibility from late afternoon onwards, and the bitter bite of winter tempting you to blast the heating on in the car even more, it's even more common for drivers to become drowsy at the wheel. Take this, along with a car full of passengers and perhaps a huge traffic jam during rush hour, and it's enough to send anyone to sleep.
If you regularly commute to and from work or travel through the night then make sure you prepare before your journey. There's nothing worse than taking to the wheel with heavy eyelids…
Before setting off
The only way of fighting tiredness is pretty straightforward; sleep! Get enough rest before a long journey so that you're likely to maintain full concentration of the road. If you have heavy eyelids and you're yawning lots then you know it's time to rest.
If, however, you're driving home after work and you feel particularly tired then don't rush to hop in the car and drive home immediately. Instead, get some fresh air, cup of tea or coffee and perhaps a bite to eat. This may give you the energy boost you're lacking and may restore your concentration until you're ready to reach your destination, where you can finally relax and take a rest.
If you're currently being prescribed medicines then check with your doctor that any medication you are currently on will not cause fatigue. It may be best to find alternative transport solutions for your daily commute if you suffer from regular tiredness.
Car maintenance is also crucial before setting off on long journeys in order to avoid car breakdown. Besides, there's nothing worse than being tired and breaking down when all you want to do is get home!
During your journey
For longer journeys, aim to take a 15 minute break every two hours.
As soon as you feel the signs of tiredness (yawning, poor concentration, heavy eyelids and waves of drowsiness), consider having a 15-minute nap or longer, if you can. You can have a cup of tea or coffee but this is a temporary solution for fighting tiredness; be careful you don't have too much so that mentally 'crash' later on.
Despite how cold it is outside, try to lay off the car's heaters. Having these on full blast can put you to sleep quicker than you think, as you become too warm and comfortable, automatically reducing your concentration levels.
Don't drive if you feel too tired to make the journey. Lack of concentration could kill you or someone else.