Don't let a breakdown spoil your Christmas
Date posted: December 4, 2012
As Christmas edges closer, there's no doubt many of you will be starting to put together a Christmas list of gifts to buy and things to do! After all, there's no harm in a little preparation.
With this in mind, consider adding car breakdown cover to your Christmas shopping list. Nobody likes the thought of breaking down at the roadside, let alone breaking down on a busy road in freezing cold weather and having to shell out loads of cash to recover your vehicle, so why let a car breakdown spoil your Christmas?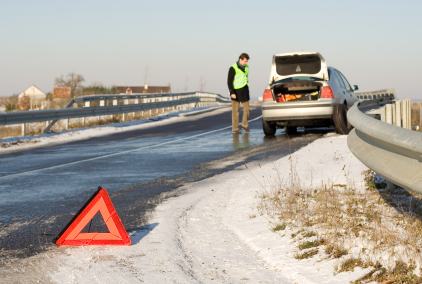 The effects of cold weather
Although it's hard to say whether or not we'll have a white Christmas, it's no secret that the weather is getting progressively colder and wetter! Harsh weather conditions can really take its toll on your vehicle, especially if you neglect vehicle maintenance, even for a week or two.
Although some may opt to lock their car away for the winter or pop it in the garage when it's not in use, problems begin to arise when a car is left outside in the cold winter weather.
Battery bother
Cold temperatures can hinder your car battery's performance and efficiently, leading to a flat battery, a common problem in winter. Flat batteries are the most common causes of vehicle breakdown so it's important than you check on the battery regularly.
You can prevent battery failure by:Replacing your battery every four years
Turning off your car's electrics if you're not using them
Keeping on top of battery water levels
Charging the battery overnight if you're not planning on using your car for a couple of days
Having your alternator belt checked out by a qualified serviceman
Investing in a battery analyser so you know what condition your battery's before you travel
Travelling without breakdown cover
Breakdown cover can help motorists who want to avoid hefty roadside recovery costs when on the road, should they happen to breakdown. If you don't have breakdown cover and you require breakdown assistance or roadside recovery this Christmas, you could find yourself shelling a significant amount of cash at the roadside.
Instead of wasting lots of time and money on calling for breakdown assistance when you're not covered, consider adding breakdown cover to your Christmas to-do list and receive cover that is completely tailored to suit your individual circumstances.
Rescuemycar offers car breakdown cover for as little as £17.90, as well as European breakdown cover, both annual and short-term.