Winter driving tips for new drivers
Date posted: December 4, 2012
Driving in winter can be particular unpleasant at times even for the most experienced drivers, so it's no secret that new drivers shiver at the thought of meeting the demands of Britain's icy winters. However, if you've just passed or haven't driven in a while then don't let the looming winter weather shy you away from the great outdoors; you can still commute and enjoy driving, you just need to prepare!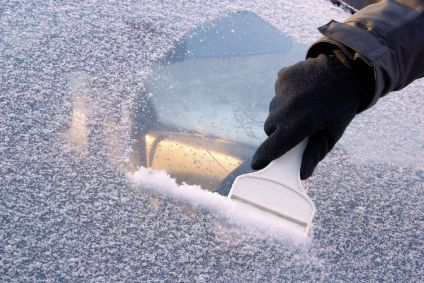 We've listed some of the top essentials you need in your vehicle this winter so that you're fully prepare for everything that winter throws at you.
Ice essentials
De-icer and window scraper are undoubtedly the top two essentials you'll need this winter for when the snow and ice really begins to kick in. Keep them in your car, preferably somewhere in the front so they can be reached easily.
Although scraping ice from your car on a freezing winter morning isn't the most pleasant of experience, it's incredibly dangerous (and against the law!) to leave parts of your windscreen covered in snow and ice.
If you have ice on your car then turn on the engine and switch the defroster to the highest setting. Brush off any thick lumps of snow before spraying de-icer onto the windscreen. Then, use the scraper to remove all frost from your windscreen until it is completely clear.
Don't rely on a credit card or CD to scratch away any resistant ice; it's the worst thing you can do.
You should also invest in some proper screen wash that doesn't freeze in winter, as opposed to using plain water which will only land you back at square one; a frozen over windscreen!
Shifting snow
As well as removing any large lumps of snow from your vehicle's windscreen, roof and mirrors, you may notice that large mounds of snow have built up around the wheels of your vehicle overnights. It's best to keep a little shovel in the boot of your car for times like this, so that you can easily shift any unwanted snow out of the way.
Keep it in your vehicle for the duration of winter at least, as it can prove to be an extremely handy tool. Even if it isn't snowing in the morning and you drive to work, to could return to a snow-covered car that is completely barricaded in by mounds of the stuff.
Essentials for emergencies
Emergency phone chargers are always handy to have, just in case you happen to break down in an unknown area and your phone is running low on battery. After all, you never know when you might actually need your trusty mobile!
Jump leads are another necessity to have in your car, not just for during winter. Keep a set of jump leads in your boot so that you can quickly recover from a flat battery (which is extremely common in winter!).
A torch is another winter essential; imagine breaking down on a cold winter's night when you can't see anything. And, with the clocks having gone back which means longer dark nights, it's likely you'll be travelling during the dark at some point this Christmas.
Make sure you have breakdown cover this Christmas – otherwise towing and maintenance costs may just ruin your Christmas spirit!